Mountain bikes are expensive. We could argue all day about whether a $5,000 mountain bike gives you more enjoyment for your money than a motocross bike, an all-leather sex swing or a full-blown crack habit. At the end of the day, none of our bikes are logical purchases, they are complex, personal equations of available money, emotional attachments and downright stupidity.
When I was sixteen I worked Saturdays in the local bike shop for £12 a day (roughly $15 at current exchange rates). At that time things like minimum wage laws were strange things that happened to other people in far-off countries. Looking back, it worked out to earning about £1.50 an hour and the rancid stench of the cheap, plastic coffee machine I cleaned at the end of each day still haunts my nostrils. What I remember more clearly is what the job gave me: The owner let me make a trade order. Back then, this was the greatest thing in the world, me and my friends had heard of older kids ordering parts at "trade", but this was the first time one of us had access to this mythical luxury.
The morning I went to the shop to place my order remains clear in my mind. Stopping at the bank machine, I took out more money than I had ever seen in my life, certainly more than I had ever spent on a single item (about £200). Carefully carrying the money in my back pocket, scared in case something happened to me with such a fortune on me, I nervously crossed the town centre to the shop. The owner opened the suppliers' catalogue, scrawled a reference in his order book with a dog-earred pencil and took my money.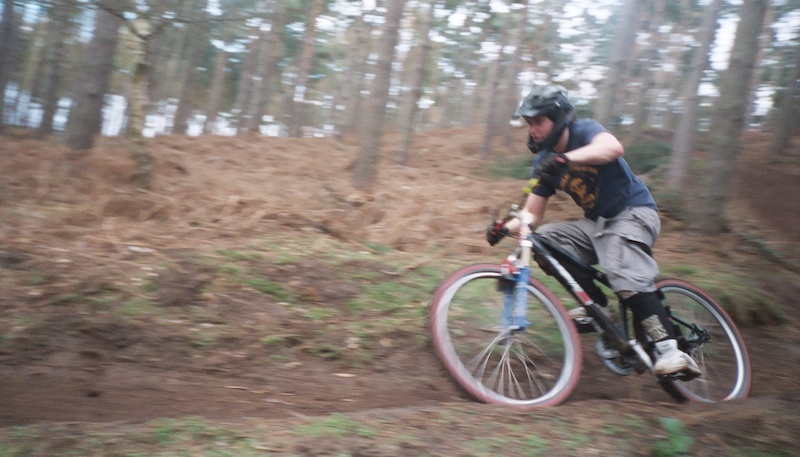 One of the few surviving photos of me riding my pride and joy. Bonus points are on offer if you can name all the questionable products here in this photo.
Several, agonising weeks of waiting later it arrived: A black, Azonic DS-1 frame. It was one of the greatest days of my youth and was without question my proudest possession, staying with me the best part of a decade before fears about aluminium fatigue finally retired it from service. I loved that bike. Hours and hours were spent searching the adverts at the back of the magazines (online shopping didn't exist then), trying to find good parts at a price I could afford. When birthdays and Christmas came around all I ever wanted was another upgrade for it; a fork, brakes, new handlebars. In the first few years of owning it there's a good chance I spent nearly as much time trying to find upgrades I could afford as I did riding it. Some evenings we would huddle round the catalogue from a local bike shop, daydreaming about what bikes we'd build if we had the money.
My story isn't a special one for anybody but me. Surely everyone who started riding at that kind of age has a similar story? It is part of the coming of age as a mountain biker – struggling to put together the best bike you can with what little you have. Some fifteen years separate me from the nervous teenager ordering my frame and in the intervening years life has changed. Everything became complicated at some point and, like every adult, my time seems to fill with never-ending commitments. I look around at my friends and we are all slightly fatter, slightly sorer and a hell of a lot busier.
Setting aside partners, children, houses or the million other small things that fill an adult life, the biggest single reason we are busy is work. This usually has the benefit of earning you more than £12 a day, even if it doesn't feel like it sometimes. So it should be a surprise to nobody that the majority of people who go out and buy new mountain bikes fall into this kind of bracket. The truth is that it's not teenagers, students or elite racers who keep the mountain bike industry turning, but slightly older people with decent jobs. People who have worked hard to have money to spend, people who maybe don't have time to scour the modern small ads (the internet) for bargains and, most importantly, people who might feel a little bit happier about the world by owning a bike they are excited about
We ran a poll last year asking how readers bought their mountain bikes – the majority of people who replied said they hunted around online for the best bargain for their new bike. Don't get me wrong, I get it. In fact, virtually everybody working in the mountain bike industry gets it. While Mike Sinyard may not be living on economy beans and pre-flavoured pot noodles (or maybe he is, I've never had the chance to ask him), the truth is that if you want to make money you don't work in the mountain bike industry. Almost without exception, people who work for bike companies, the mountain bike media or anything to do with bikes do it for one, simple reason: they love bikes. And it's no secret that being in a position to buy bikes and gear you would never be able to afford otherwise is one the most-liked perks of working for a bike company. Why else would you take a job that pays a lot less than the equivalent role in a more mainstream industry? Not to get off track, but the point is: the mountain bike industry is filled with people who understand what it's like to struggle to feed your bike habit.
But there is one thing that seems to be overlooked these days, lost in a torrent of angry comments aimed at all kinds of aspects of bike design. Mountain bike companies are just that, companies. They make their bikes for the people who buy them. So, if you're not in that group of people who are buying new bikes at somewhere near the original retail price, you're not who they are making those bikes for. It may sound patronisingly obvious, but on the evidence, many people seem to have forgotten this simple truth.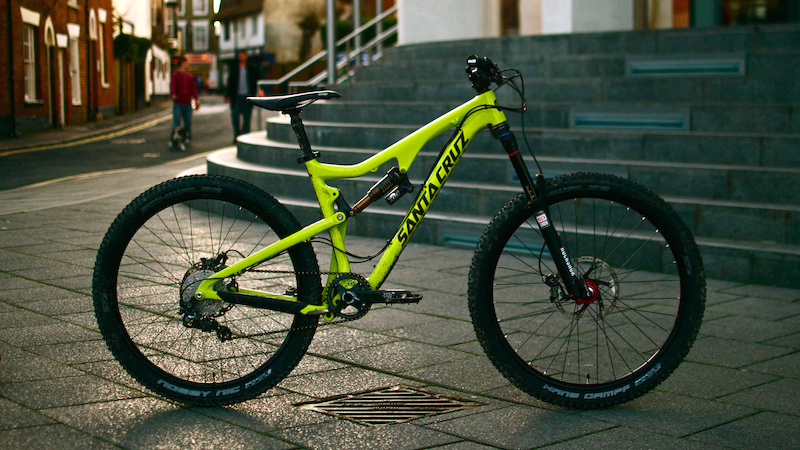 No matter how you feel about them, bikes like this one are what are selling now
Wheelsize is one of the best examples of this phenomenon. No topic is as sure to produce a barrage of anger from certain quarters than a bicycle with a larger diameter wheel. People proudly proclaim they are "26 4 Life" or that it's a "conspiracy" by the blood-sucking corporate lizards of the bike industry. You are entitled to not want to buy a bicycle with bigger wheels. Your current bicycle's value should be measured in the fun it offers you, and this cannot be diminished by anybody but you. Nothing the bike industry does can change this. But, the reality is that in bike shops, the people who are walking in asking to buy new bicycles are saying, very clearly, that they want bigger wheels.
Speaking to a friend from the UK who runs a small bike shop in an area close to London, one that is synonymous with more affluent, older riders (ie. the ideal market for a bike shop), he was unequivocal about the shift in peoples buying habits. At the start of 2013 he bet against larger wheels, buying in stock of 26″ wheeled bikes. He lost that bet. By the end of the summer he found himself having to discount the bikes heavily just to get them out of the shop. His customers wanted 27.5″ or 29″ bikes. Looking further up at the foodchain at the bike manufacturers, there is no better example of this trend than the 27.5″-wheeled Santa Cruz Bronson. There is no question – it was the right bike at the right time. People wanted a longer-travel trail bike with that wheelsize and Santa Cruz got the jump on the competition, getting their bike to market before the bigger players. Since its launch, they have sold as many of them as they can make.
There will always be more changes, bike design is going to keep evolving. Once everyone has accepted the whole wheelsize change (and in case anybody has not realised: it's s done deal) there will be something else that will surely piss some people off just as much. Whether it's electronic suspension, the death of the front mech or a new trend in geometry, there will be something. Inevitably progress doesn't please everybody. But, this progress has taken us from sketchy converted road bikes to advanced, relatively affordable mountain-eating machines in less than 30 years. Companies that have not only survived, but prospered, have done so by producing bicycles their customers want to buy. If you find yourself looking at new bikes and not liking what you see, then ask yourself, "Am I the person these bikes were made for?" The answer might be that you aren't. And remember, the by-product is that old products that didn't sell are discounted and second hand bikes trickle down the tree, so if you're not lucky enough to be in a position to lay down the money for a new bike, there are ways you can still build yourself a bike and go riding.
East Valley residents have easy access to some of the best mountain bike trails in the state. From beginner rides to technical thrills, there are options for anybody interested in singletrack adventure.
Not sure where to start? I'll share a few ride suggestions by ability level. (Check out Parts 1 and 2 at GetOutAZ.com for beginner and intermediate trails, and some bike shops that can help you out.)
Best advanced ride: Arizona Trail
The Arizona Trail is an 800-plus-mile trail that runs from Utah to Mexico. East Valley residents are lucky to have fairly easy access to this wilderness experience.
Forty-five minutes east of Mesa on U.S. Highway 60, the Arizona Trail bisects the highway. Look for signs that will lead you to the Picket Post Trailhead. To the north of the highway, the Reavis Canyon segment of the trail offers a rewarding climb; to the south of the roadway, the Picket Post segment enters a breathtaking canyon. Pack plenty of food, water and supplies, and head out in either direction for a full day of pedaling.
For information, visit AZtrail.org.
Runner-up: Pass Mountain
This ride crosses into both Tonto National Forest and Usery Mountain Regional Park. With phenomenal views of Four Peaks, the Goldfields and the Superstitions, it is hard to pay attention to the trail — but pay attention you must! Not for the faint of heart, this ride offers chunky technical rock riding best suited for those with long-travel suspension and a bit of bravery.
Visit Maricopa.gov/parks/usery for more information and a map.
• Mesa resident Kristen and her husband have been mountain biking together for the past decade. They recently got a new biking buddy when their 1-year-old son started joining them.
Shimano have announced a new version of their Alivio groupset aimed at leisure cyclists, updates to their Alfine and Nexus systems, as well as a bunch of new wheels including disc brake and road tubeless options.
Alivio
Shimano are introducing a new version of their Alivio groupset aimed squarely at trekking bike users.
Alivio has always been a mountain bike groupset but people have used it on flat-barred trekking bikes for many years. Shimano have now decided to make a dedicated trekking version that sits in the range alongside the newly redesigned mountain bike version.
Shimano say, "The new trekking groupset is the most silent and durable Alivio groupset ever made. Compared to the mountain bike version, the trekking groupset has cleaner appearance.
"The rear derailleur clearly shows the different design. The front derailleur has a wide link for longer durability and precise shifting and the front crank is available in 48-36-26 and 44-32-22.
"Overall Alivio trekking is a 9-speed groupset with a light, precise and silent shifting operation and ergonomic handling."
So, that's the official line. To distinguish between the different components, the mountain bike kit gets an M in the product name and the trekking kit gets a – you guessed it – T. The Alivio mountain bike shifters, for example, are called ST-M4000 while the trekking shifters are ST-T4000. It's all pretty logical.
Two different chainset/bottom bracket systems are available: a two-piece chainset construction (T4060) using outboard bottom bracket bearings, and an Octalink system (T4010, with an eight-spline connection between the cranks and the bottom bracket).
As mentioned above, the chainsets are triples and you get to choose between 44-32-22-tooth chainrings, and 48-36-26-tooth.
The shifter is a new Tap Fire Plus design with a gear display, and braking comes via V-brakes whereas the mountain bike version of Alivio now gets hydraulic disc brakes (ST-M4050 shifters, BR-M4050 hydraulic disc brake calipers).
In terms of looks, the trekking products have a smoother appearance than their mountain bike counterparts. They're available in two different finishes: silver and black.
1.5W hub dynamo
Shimano are introducing new 1.5W hub dynamos. The new 1.5W models are significantly lighter than the existing 3W models (125g or around 23% lighter), the rotational torque – the resistance that creates the power – is about 50% lower, and the hub is more compact – about 20% smaller. You've got to love a few stats. Alfine, Nexus and Deore XT (pictured) versions will be available.
The main reason for these new 1.5W models is a law change in Germany that allows LEDs to be powered by dynamos. That means it's likely that more manufacturers will be producing 1.5W compatible dynamo lights in the future, although Shimano don't intend to produce any themselves.
Alfine
Shimano have updated their Alfine city/comfort groupset with a new Inter-8 shift lever – SL-S7000-8. It's a top-normal shifter meaning that it works in exactly the same way as a mountain bike shifter and the 11-speed Alfine shifter. The existing 8-speed Alfine shifter works the opposite way round to normal.
If you already have an Alfine 8-speed hub, you can use it with the new shifter as long as you get the new small parts too.
Nexus
The Nexus Inter-8 groupset gets a completely new look that's more co-ordinated than before, and it's available in both black and silver options.
If you want a hub dynamo with this group, you can choose between 1.5W, 2.4W and 3W.
The cheaper Nexus Inter-7 system gets a smoother shifting performance, according to Shimano, thanks to an improved internal pawl engagement.
STEPS
We told you about Shimano's STEPS (Shimano Total Electric Power System) E-bike groupset last November so we won't go into much detail here.
Essentially, STEPS is an integrated E-bike system that includes a drive unit, battery, chainset, cycle computer and chain. It engages when you are pedalling and cuts out at 25km/h (16mph).
STEPS has three types of power support modes: eco has a range up to 120km (75 miles), normal mode offers up to 100km (63 miles) and the high mode up to 80km (50 miles). Of course, this will all vary according to the terrain, the bike, the rider, and the conditions. The cycle computer gives feedback on battery life, riding speed, distance, and so on. You can integrate STEPS with Shimano's Di2 internal hub gears.
Road wheels
Shimano are introducing a new high-end disc brake-compatible road bike wheel in the shape of the new WH-RX830. It comes with a 30mm-deep section rim, an aluminium structure, that on its own wouldn't be strong enough, with carbon laminate laid over the top.
The rim is 17mm wide internally, the extra width being designed to create a greater than normal contact patch with the ground in order to improve braking performance. It's 11-speed compatible and it's designed for use with Shimano's 140mm centre lock disc rotors.
The RX830 is built to Shimano's existing OptBal (it's short for 'optimal balance and rigidity') 2:1 spoke system, meaning that 14 of the spokes in the rear wheel go to the driveside, seven to the non-driveside. The idea is to balance the spoke tension leading to improved wheel rigidity and durability. As usual with Shimano, the hubs feature cup and cone bearings.
Last year Shimano introduced the Ultegra-level 11-speed compatible RS81 wheels with carbon laminate rim technology in 24 and 35mm rim depths. Both of these will be available in road tubeless versions (as opposed to clincher or tubular) in the future.
Maybe this will be the year when Road Tubeless finally takes off. If so, Shimano will be ready with more choice than before. The RS610 is another new road tubeless wheel option, this time using an all-aluminium rim so it'll have a lower price (although we don't have prices for any of these products yet).
The RS010 is a new entry-level system which will be Shimano's lowest priced 11-speed compatible wheelset.
The Box shifter works by pressing the thumb lever forward like normal, but then releases by pressing the lever in towards the stem Ben Delaney/Future Publishing
BMX Hall of Famer Toby Henderson has had several post-racing projects, from THE (Toby Henderson Enterprises) to the new Box Components. After a couple of years producing high-end BMX parts, Box is moving into mountain bike with a slew of cockpit items (stems, seatposts, handlebars) and an interesting style of shifters and corresponding derailleurs.
Box is the sister brand to Promax, which is being spec'ed on bikes from GT, Cannondale, Bianchi and Wilier.
Known in the BMX world for parts like carbon forks, 20mm front and rear axles, and 35mm Praxis spindle cranks, Box is hoping to carve out a little space in the mountain bike world, too.
The shifters and derailleurs, which aren't yet in full production, are aimed at an XT level of price and performance, the company says. The thumb shifters work with a unique lateral press, towards the stem, to release cable, as well as the more common forward press to pull cable. (Pushing the lever forward moves the chain up onto a larger cog. Pressing the wide lever panel inwards towards the stem drops the chain down onto a smaller cog.)
For now, the aluminum rear derailleur weight is about 135g. The aluminum and steel shifters have a target weight of 156g for the pair.
Box is developing cranks, but has put chainrings and chains on the back burner for now. Pricing has not yet been set for any of these parts.
"We also are working on a short-cage version of the rear derailleur, a version with a damper, and, at some point we'll do one that works with 1×11," said Box product designer and senior brand manager Michael Gamstetter. "But we're taking this one step at a time."
The 10-speed rear derailleur has a spring-loaded cable stay to keep the cable housing out of harm's way. It uses POM pulleys with sealed cartridge bearings, and has a robust 30mm main link pivot for rigidity under shifting loads.
The single-lever 10-speed shifter features a short action. With only the thumb needed, the index finger can stay on the brake lever at all times. The single lever also makes for a cleaner cockpit. The angle of the shifter action can be adjusted, and long and short levers will be available as well. The front shifter works with double or triple cranks from SRAM and Shimano, and the rear works with the Box derailleur.
You can follow BikeRadar on Twitter at twitter.com/bikeradar and on Facebook at facebook.com/BikeRadar.
You can also improve your fitness and train with us on training.bikeradar.com.
It's only ten days since we wrote about the titanium 3D-printed Empire Cycles MX-6 Evo mountain bike, a one-off machine designed to show what can be done with additive manufacturing. This article however is not about a one-off bicycle, but a bespoke, made to measure titanium bicycle manufacturing process that's getting underway at Flying Machines in Perth, Australia. Each customer is measured, and the dimensions are then used to calculate the exact geometry required and the titanium parts are printed. It is anticipated that the entire process will enable finished bikes to be delivered inside three weeks, at a cost of US$3150.
« Back to Flying Machine incorporates 3D titanium printing into US$3150 bicycle production process
It is 2014 and as previously stated about the found wanting Kaffenback, it was time for the Gravel Grinder/ Monstercross project. This involved careful timing and OCD levels of cyber stalking the Planet X and On One web pages. Waiting for that special deal which in this case was the Planet X Boxing Day pricing.
With winter here and being that it has been pretty much a skating rink since the 8th. Well, not as much of a rush to get it all built up. And the first item needing to be done was protecting the frame internals using boiled Linseed oil. So after pouring it into all the tubes and moving the frame around to get it to coat everything inside. And after that it was application of car wax to help with the ice and salt we have.
Now because this is a temporary set up I won't elaborate on all the parts used currently. As this is only the second time I have built something like this up. And the first one was on a frame that was to small. So I have to ride it a lot to figure out what parts are good and what are not so good. Maybe over the next 2 months this will evolve to it's final set up.
Of course because of the weather the build was done in the basement where it was warm. Because having fingers sticking to metal parts begins to suck…..rapidly.
First ride was brief on the Saturday in the snow of course. And very quickly noticed that the first major issue was stem height. As shown above it is to low and this places way to much weight on the front wheel. Good for aerodynamics but not so good for anything like Monstercross.
Other issue is tire clearance. Specifically between the derailleur and the tire as it is obvious the Inbred is designed around the older generation derailleurs which have less stuff sticking out. Which obviously creates a nice little shelf for stuff like snow and ice and of course mud to build up. Not so good. But easily fixed by finding a old school version top pull.
As I mentioned there will be further evolution of the parts and set up over the next month till we get to the rough final set up. Once there I will share the full set up and other stories related to this project in the coming weeks. Now just need the thaw to begin.
Bike thief Craig James stole a chained up mountain bike – by leaving the front wheel locked up to a metal drainpipe and taking the rest.
But James, 42, was nicked when he tried to flog the expensive forks on the £900 bike on E Bay – and was caught red handed.
Jobless James, of Phear Avenue, Exmouth, Devon, only lived two streets away from the owner who spotted his own bike parts being sold on the auction site.
Dad of six James was convicted after a trial of stealing a bike and was given a three year conditional discharge and told to pay £350 costs by Exeter JPs.
He said he had bought the bike for £30 because it was a 'bargain'
Box Components – New Single Lever Shifters | Mountain Bike Review
http://reviews.mtbr.com Tue, 04 Feb 2014 01:06:46 GMT
Toby Henderson is a BMX legend and is an inductee in the US Bicycling Hall of Fame. But, I remember him mostly from his days racing mountain bikers for GT as well as being a prominent model in many of the action …
Can you buy a single part of a shifter. | Mountain Bike Forums
http://forums.singletracks.com Fri, 07 Feb 2014 10:28:36 GMT
Can you buy a single part of a shifter.. Active mountain bike forums with answers to all your MTB questions.
Norco Bicycles Parts Ways With Dirt Norco Race Team | Mountain …
http://mtb4her.com Fri, 31 Jan 2014 20:14:35 GMT
It is with regret that we announce that, after a very successful four-year partnership, Norco Bicycles and the Dirt Norco Race Team are parting ways for the 2014 race season. Throughout the course of our fruitful partnership, …
The most important part on a mountain bike | Mud Chix The most …
http://www.mudchix.com Sat, 08 Feb 2014 21:51:41 GMT
So you're thinking about mountain biking. You head to your local bike shop (because shopping for a bike at walmart or target is uncool and dangerous) and find a bike that you think looks good. Then you look at the price …
Montra Bike | Bike Parts Introduction | Bicycle Parts & Accessories
How well do you know the parts of a bike? Watch the video and know about different essential parts of your bike. Montra bikes and parts are among the best in…
Mountain Bike Suspension Parts & Maintenance : Mountain Bike Front Suspension Systems
Learn tips on mountain bike front suspension systems in this free online bicycle parts and maintenance video. Expert: Mickey Denoncourt Contact: www.spookybi…
World's first 3D-printed titanium bicycle frame could lead to cheaper …
http://www.gizmag.com Sat, 08 Feb 2014 22:07:35 GMT
Renishaw, an additive manufacturing firm, joined forces with Empire Cycles to build the one-off titanium MX-6 Evo mountain bike. Empire … The components of the seatpost bracket were printed together on one build platform.
FS Used: mountain bike parts – PinoyMTBiker Community
http://www.pinoymtbiker.org Mon, 27 Jan 2014 02:30:17 GMT
FS Used: mountain bike parts Bicycle Components.
By
Kristen Alebakis
Feb. 10, 2014, 1:30 p.m.
GALLERY: THE Bendigo Mountain Bike Club is gearing up for a big year.
Climbing to new heights
RACING: Cyclist Isaac Buckell rides through the course. Pictures: JODIE DONNELLAN

CONCENTRATE: Bendigo cyclist Dylan McKenna gears up for a big 2014.

OFF AND RACING: Lila Kettle, 4, gets involved with the Bendigo Mountain Bike Club.

FAMILY FUN: Ava, 11, Hamish, 8 and Ollie Ueno, 14 are all a part of the cycling club.

Sophie Wilson, 4. Picture: JODIE DONNELLAN

Michael Graske-Borst, 6. Picture: JODIE DONNELLAN

Hamish Ueno, 8. Picture: JODIE DONNELLAN

Hamish Ueno, 8. Picture: JODIE DONNELLAN

Ken Tanner. Picture: JODIE DONNELLAN

Phil Turner. Picture: JODIE DONNELLAN

The Bendigo Mountain Bike Club race night. Picture: JODIE DONNELLAN

Stuart MacGregor and Dave Mad. Picture: JODIE DONNELLAN

Greg Taylor. Picture: JODIE DONNELLAN

Eveline Van De Broeck. Picture: JODIE DONNELLAN

Ollie Ueno, 8. Picture: JODIE DONNELLAN
THE Bendigo Mountain Bike Club is gearing up for a big year.
The club, which has about 100 members, is aiming to grow even bigger in 2014.
Two major events are set to take place this year, the Golden Triangle Epic and the Bendigo Three/Six Hour, with several social and club races also organised.
However for club president David Macauley this year isn't just about racing it is about encouraging the community to get involved with mountain bike riding.
"Cycling in Bendigo is pretty popular with more and more people getting on their mountain bike," he said.
"A focus for the club this year is about enabling beginners and juniors to participate.
"There is no better way than getting out and enjoying nature on your bike."
Macauley said there would be bigger and better things planned this year.
"The Golden Triangle Epic is on March 16," he said.
"People can either ride a 15km, 50km, 100km or the 150km course.
"We had over 200 riders for that event last year and we are hoping to have closer to 300 this year.
"Riders will come from all over Victoria and other parts of Australia."
Macauley said the Bendigo Three/Six Hour event also continued to grow in popularity.
"It started off as a six hour event and now we have a three hour category as well," he said.
"People can ride that as either an individual or as a team.
"The last couple of years we have also introduced a new category for least experience riders."
Last year, the Bendigo Mountain Bike Club produced four national titleholders.
Peta Mullins, Jack Haig, Chris Hamilton and Isaac Bucknell were all crowned champions in their respective fields.
Macauley said one of the club's major plans for 2014 was to build on the existing Bendigo Trail Network.
"The club is putting a lot of time and effort into creating a network," he said.
"The idea is for people to come to a trail head and it will be a map of where all the trails are and there degree of difficulty.
"We see it as a long term project.
"Eventually we hope to have a series of trails from Spring Gully to Big Hill and back.
"It will be an asset for the whole of Bendigo."
Macauley said all the club was working in conjunction with the City of Greater Bendigo and Parks Victoria to create the network.
"We are working with Parks Victoria to see if old tracks should be closed down either because they have eroded or have been badly designed," he said.
"We want to build sustainable trails that would look after themselves."
The Soapbox: Be Part of the Solution | Flow Mountain Bike

There's been plenty of talk lately about the 'dumbing down' of trails and a desire to 'keep them organic'. As someone who has been riding mountain bikes for …
See all stories on this topic
Mountain bike parts – Buy and Sell in the Philippines – AyosDito.ph

Mountain bike parts Price: PHP5 000.Condition:Used. :1. Painted Karakoram frame 29ner (small), ritchey classic stem and seat post, Gt saddlePhp 5000Generic …
See all stories on this topic
X-TASY 26" 27S Mountain Bike Bicycle 3H CAYMAN, View …

Model: 3H CAYMAN. Color Option: Red/ Yellow/Black/Blue. Frame: 26″*15″/17″/19″ Alloy. Fork: 26" SR SUNTOUR XCR. Derailleur: SHIMANO 27SP. B.B. Parts:.
See all stories on this topic